• Arcadia Group • asos • boohoo • Customer Service • ecommerce • Fashion • French Connection • H&M • Missguided • New Look • retail • Topshop • UK Retail
Retail is detail... and customer service.  Long gone are the days when you could instruct your store staff to decline any returns or refunds for whatever reason. However, in an online world the ability of customers who feel they have been wronged to broadcast their grievance has empowered customers to a level which legacy retailers do not appear well prepared for. Following the [again] lacklustre results from Arcadia Group we took it upon us to go through their finances to see if there is anything alluding to why the company is not doing well and gaining online traction where Asos...
---
• boohoo • Cart Software • Clothing • ecommerce • Fashion • Marketing • Missguided • Startup
Sitting in a cafe a day or two before Christmas 2017 we saw a bus with an advertisment promoting a new clothing website -> www.lotd.com Source: Screenshot of lotd.com on 21 Dec, 2017. Our thought was initially - Is there another company starting to use the TfL advertising trick as used by Boohoo, Missguided, Nasty Gal, Prettylittlething, Heist Studios and other pureplay online fashion retailers? After a quick check we noticed one of the directors of Lotd Ltd resigned from Boohoo.com UK Ltd in April 2017. Lotd Ltd was incorporated in March 2017 and share its office address with TheRobertStreetHub,...
---
• boohoo • Clothing • ecommerce • Farfetch • matchesfashion.com • Missguided • N Brown • Net-A-Porter • retail • ShopDirect • UK Retail • Yoox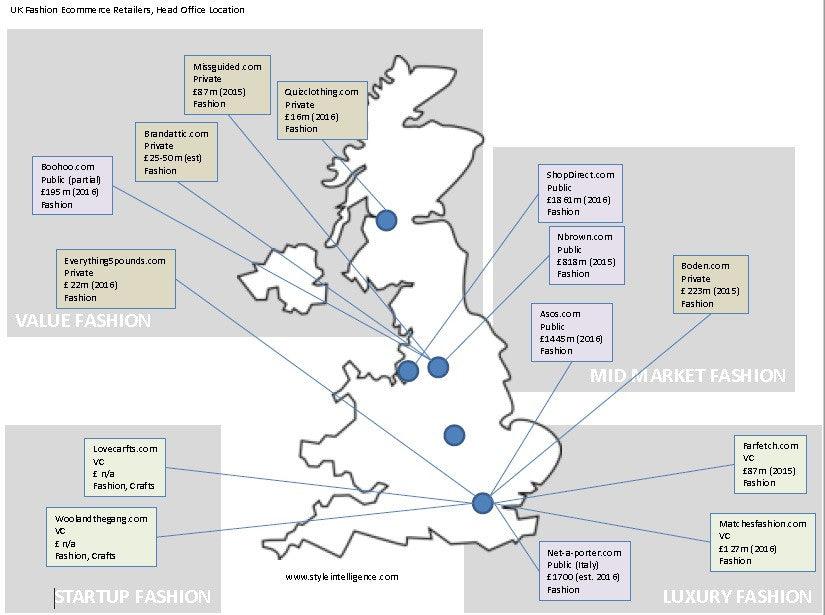 Posted by Thomas Andersson, March 7, 2017. When looking at the UK fashion e-commerce landscape (excluding multi-channel retailers) it is interesting to note that the marketplace is divided by latitude as well as by consumer preferences. The value fashion sector led by Boohoo.com is primarily based in North England around Manchester whereas the mid-market fashion sector is spread out in middle-England. All of the luxury and high-end fashion e-commerce companies are based in London. More 'experimental' fashion e-commerce companies also tend to gravitate towards London, possibly due to its networking opportunities and existing start-up infrastructure. What can be learned from...