• boohoo • Clothing • ecommerce • Farfetch • matchesfashion.com • Missguided • N Brown • Net-A-Porter • retail • ShopDirect • UK Retail • Yoox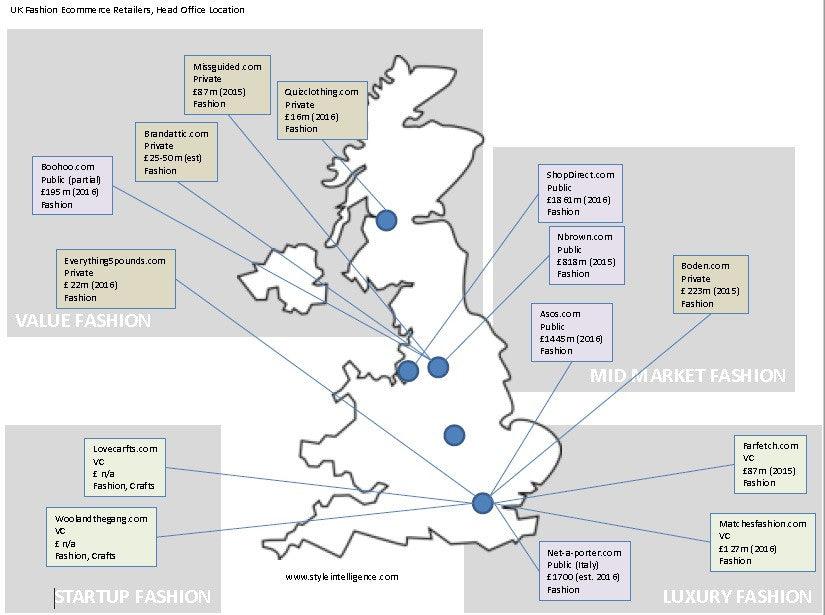 Posted by Thomas Andersson, March 7, 2017. When looking at the UK fashion e-commerce landscape (excluding multi-channel retailers) it is interesting to note that the marketplace is divided by latitude as well as by consumer preferences. The value fashion sector led by Boohoo.com is primarily based in North England around Manchester whereas the mid-market fashion sector is spread out in middle-England. All of the luxury and high-end fashion e-commerce companies are based in London. More 'experimental' fashion e-commerce companies also tend to gravitate towards London, possibly due to its networking opportunities and existing start-up infrastructure. What can be learned from...
---
• Affiliate • Cart Software • China Fashion Market • Department Stores • ecommerce • Farfetch • Fundraising • Net-A-Porter • retail • Venture Capital • Yoox
Our first reaction to Farfetch raising another $110million taking its total funding to $300million was - WHAAAAAT? The company is a retailer without stock and operate as an advanced affiliate network connecting buyers with stores & brands. It earns about 25-30% in commissions on the sales they generate which is much higher than standard affiliate schemes, where anything up to 10% is considered good, and would resemble more of a department store with concession shop-in-shops where up to 40% commission on sales is not unheard of. However, Racked (link below) reports that much of the $110million will be used to...